(MOBIKWIK) Get between Rs 1 and Rs 100 through a Scratch Card
Redeem supercash and earn wallet balance .
Probably you will get 6/7 rs after scratching and amount will be added instantly in your wallet.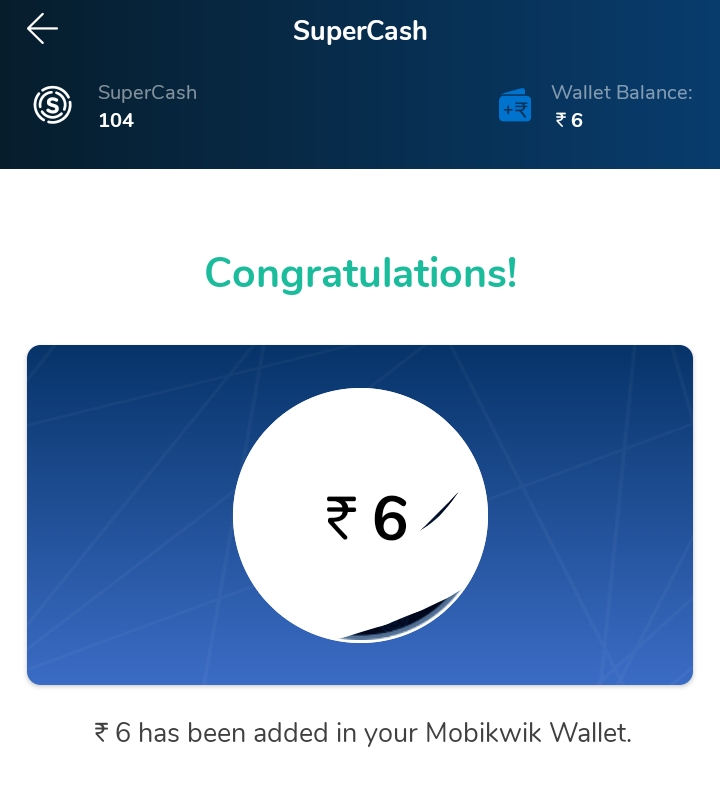 TnCs of scratch card
Scratch cards allow you to convert your Superash into wallet balance. Buy a scratch card using SuperCash and earn Cashback through the Scratch card
User can earn between Rs 1 and Rs 100 through a Scratch Card
Scratch cards are available on the MobiKwik app 24*7
A scratch card purchased is valid for 3 months
Once a scratch card is claimed by the user, it can not be returned or exchanged for SuperCash
The money added to the wallet in lieu of the scratch card can not be contested
Overall SuperCash usage limits of 100 transactions and 1000 SuperCash per user per month apply
User must complete KYC on the MobiKwik app to use a scratch card
User must have minimum 10 SuperCash to buy their first scratch card
In case your claim on the scratch card is pending and the balance has not been credited to your wallet, please wait for 24 to 48 hrs for it to process
User can buy one such scratch card in a month. However, this limit does not apply to task based scratch cards
Refer to the 'how it works' section to know how you can activate more scratch cards by completing various transactions on the app
How it works?
Buy your first scratch card using minimum 10 SuperCash
Claim this scratch card and then click on 'activate more scratch cards'
You will be shown multiple levels at which you can get new scratch cards
Each level has a transaction that must be completed in order to get a scratch card
Once you complete the transaction, you will receive a scratch card which you can claim by using your SuperCash. Follow a similar process for each level
The transactions mentioned in each level need not be completed in similar order. However, you can claim the scratch card of a level only if you have already claimed scratch card of previous level. For example, Level 1 has transaction A and level 2 has transaction B. You can perform A and B in any order, however, you can claim scratch card of level 2 only after you have claimed scratch card of level 1
Transactions already completed before entering the 'scratch card journey' will not be considered in claiming the scratch cards
In case of pending transactions, please wait for 24-48 hours to get the scratch card unlocked.
For every scratch card to be redeemed, you need to have a requisite SuperCash balance to claim it
Complete your day to day transactions with MobiKwik & keep earning more scratch cards 🙂